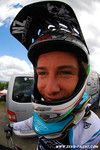 Yeti hat das neue Team für die Saison 2010 angekündigt. Der überragende 4X Weltmeister dieser Saison Jared Graves wird auch kommendes Jahr auf den weiß-türkis-farbenen Bikes in die Pedale treten. Der siebte des aktuellen DH-Worldcups – Sam "Blinky" Blenkinsop wechselt dagegen in ein neues Team. Wohin es den Kiwi zieht ist noch unklar, vielleicht geht die Reise ja zu Trek: sein Manager ist Martin Whiteley, dem wiederum auch das Trek-World-Racing Team gehört….
Hier die Infos vom Team Yeti:
Foto von John-Doe
Yeti Cycles, who has perennially fielded one of the strongest teams on the World Cup mountain bike circuit, announced the 2010 Yeti / Fox Racing Shox Factory team roster today.
Returning will be six-year team veteran, Jared Graves, who dominated the 2009 World Cup circuit in four-cross, winning the World Cup Overall and World Championships. American downhill prodigy, Aaron Gwin, who finished top ten overall in World Cup standings in just his second year racing mountain bikes, will also be on board and will be focused on adding to his podium count next season. Young gun, Sam Blenkinsop, will race for another team for the 2010 season.
"Sam has raced for us the last two years and had great success under our program," said Chris Conroy, Yeti's president. "While it is always bittersweet to see a rider like Sam move on, he has been presented a great opportunity with another team and we wish him the best of luck," said Conroy.
Yeti has a long track record of developing young riders and this will play into the team dynamics for next season. "Fortunately, we have a strong development program and this will give one of our younger riders more experience on the world stage," Conroy said. Most notably, Colorado native, Joey Schusler, will be given and opportunity to try his mettle on the World Cup circuit this year.
To bolster the team support, Yeti will add Scott Sharples to the program to help manage the team, mentor the racers, and provide coaching support to all levels of the program. Sharples was previously the Australian National Team coach, and has coached some of the best gravity riders in the sport. Additionally, Yeti will add a strength and conditioning coach, who will be named later. Damion Smith will remain as Team Manager.
"We're committed to building our team for long-term success," Conroy said. "We believe these key staff additions will give our riders the best support in industry and pay big dividends down the road."
Yeti Cycles is a high-end mountain bike company, based in Golden, Colorado. The company has nearly twenty-five years of racing experience and focuses its product development on making racers go faster.
---
Kurzlink zu diesem Artikel:
Ähnliche Artikel