"Am 01.04.11 öffnet der "Rocky Mountain and Friends"-Store in München seine Pforten. Der auf Mountainbikes spezialisierte Shop von Thomas Dachroth geht konzeptionell eigene Wege. In Zusammenarbeit mit Bike Action GmbH entstand die Idee eines Stores von Bikern für Biker. Die durch Bike Action GmbH vertriebenen Marken Rocky Mountain, Evoc , Raceface, Syncros, Craft, Sigma, Genuine Innovation und Marushin , können im Rahmen dieses Konzeptes optimal und auf hochwertigem Niveau präsentiert werden. Ergänzt wird das Programm durch Marken unserer "Friends" die seit Jahren das Team Craft Rocky Mountain als Kooperationspartner unterstützen."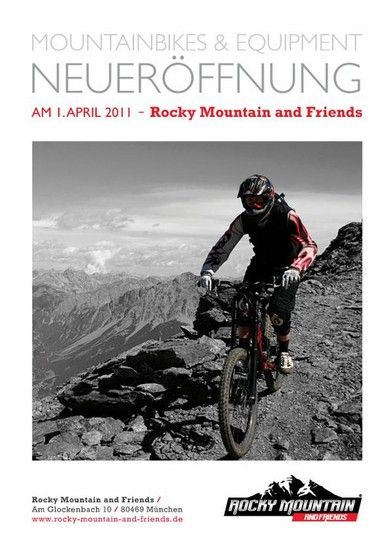 Dirk Janz, Geschäftsführer Bike Action Gmbh:
"Ich freue mich ganz besonders mit Tom Dachroth, den wir seit langem kennen und schätzen, zusammen dieses Pilotprojekt anzugehen. Wir waren überrascht wie positiv das Konzept von unseren "Friends" angenommen wurde".
Das Ladenlokal selbst liegt im Glockenbachviertel nur wenige Gehminuten von der Stadtmitte entfernt "Am Glockenbach 10, 80469 München".
"Eines der besonderen Highlights wird die "offene" Werkstatt sein, die dem Kunden einen Blick hinter die Kulissen erlaubt. Ausserdem sind regelmäßig Aktionen mit den Größen des Mountainbike Sports sowie weitere Specials, die den Shop zu etwas Besonderem machen, geplant.
Überzeugen Sie sich selbst von dem tollen Konzept und besuchen Sie das "Rocky Mountain and Friends"-Store Team am 1. Aprilwochenende zur Eröffnung."
Eröffnung:
Verkaufsstart ist am 1. April (kein Scherz!), die eigentliche Feier findet aber erst am 2. April statt – dann kann man Rocky Mountain Bikes Probe fahren – und weil in der Gruppe fahren mehr Spaß macht, als alleine, sind einige Craft-Rocky-Mountain Profis vor Ort. Wade Simmons und Thomas Vanderham werden es nicht zur Eröffnung schaffen, aber im April im Laden anzutreffen sein. Den genauen Termin erfahren interessierte auf der Facebook-Seite des Ladens. Am 2. April gibt es außerdem "Die Eröffnungsfeier (10-19 Uhr (ein wenig Open End)) – es gibt Häppschen und Pralinschen und auch was zu trinken und später (ab 17-18 Uhr) auch Musik."
Wer genau euch am 2. April bei der Ausfahrt Gesellschaft leisten wird, ist noch unklar, es werden aber vermutlich ein paar von denen hier sein.
Wer kommt am ersten Aprilwochenende ins Glockenbachviertel der bayerischen Landeshauptstadt?
---
Kurzlink zu diesem Artikel:
Ähnliche Artikel