Er ist einer der progressivsten Freerider überhaupt: Darren Berrecloth. Der bodenständige Kanadier sorgte mit seinem massiven 360 Drop in "NWD IV – Ride the Lightning" und dem ersten Auftritt bei der Red Bull Rampage für Aufsehen und ist seitdem aus der Szene nicht mehr wegzudenken. Auch heute hat sich an seinem Spaß am Sport und seiner Motivation, immer noch einen draufzusetzen, wenig verändert – aktuell bündelt er seine Aktivitäten im Bau des "Red Bull Berg Line"-Kurses in Winterberg.
Wie Darren als dienstältester Contest-Teilnehmer der FMB-Tour mit der jungen Konkurrenz umgeht und in welche Richtung sich Freeriden und MTB-Filme seiner Meinung nach in den kommenden Jahren orientieren werden, erfahrt ihr im exklusiven IBC-Interview.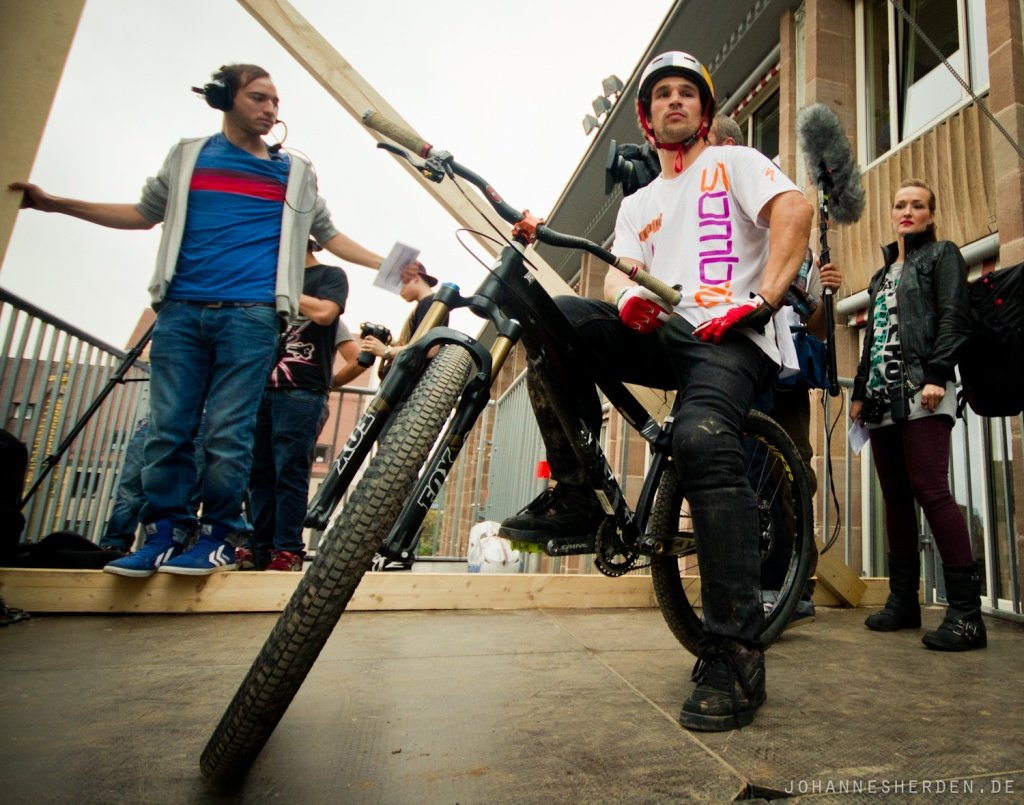 MTB-News.de: Darren, du bist jetzt 30 und schon ziemlich lang im Business – woher nimmst du die tägliche Motivation, weiter auf diesem Level zu fahren und neue Tricks zu lernen?
Darren Berrecloth: Seit jeher kommt meine Motivation daher, dass ich süchtig nach Adrenalin bin. Und dass es mir einfach tierisch viel Spaß macht, immer noch einen draufzusetzen …wie jeder der anderen Fahrer auch.
2003 bist du das erste Mal in der New World Disorder-Serie aufgetaucht, in den nachfolgenden Filmen warst du ebenfalls ein Stammgast. Was ist das Besondere an NWD, vermisst du die Serie?
2003 war ein erfolgreiches Jahr für mich, das war mein Durchbruch in der Mountainbike-Szene. Das Besondere war, dass jeder einmal im Jahr gespannt auf den neuen NWD-Film gewartet hat, weil jeder sehen wollte was die Besten im Sport gerade wieder machen. Egal ob es krasse Tricks waren oder großartige Singletrail-Abfahrten.
The Collective, Seasons oder Life Cycles stehen für eher künstlerische Bikefilme mit viel Spirit und weniger krasser Big Mountain-Action. Welcher Filmstyle wird in fünf Jahren populär sein?
Tja, früher war es einfacher das Publikum zufriedenzustellen. Als The Collective rauskam und eher Stories erzählt und durch schicke Singletrail-Abfahrten Emotionen hervorgerufen hat, konnte das jeder nachempfinden. Darum wird es auch in Zukunft gehen – Geschichten erzählen, Charaktere zeichnen und das Publikum mit den Fahrern vertraut werden lassen, vielleicht sogar mit der Filmcrew. Das ist auch ziemlich das, woran wir grad beim Drehen für "Where the trail ends" arbeiten.
Seit 2006 veranstaltest du das "Bearclaw Invitational", das auch ein fixer Termin in der FMB World Tour ist. Was ist das Besondere an deinem Contest? Bist du stolz drauf?
Ja, den Event gibt es jetzt schon eine ganze Weile und ich bin völlig begeistert, dass ich einen Wettkampf veranstalten kann bei dem alle guten Fahrer am Start sind und viel Spaß in einer entspannten Atmosphäre haben. Die meisten Events haben einen extrem hohen Stresslevel für die Fahrer – aber so läuft das bei meinem Event nicht – we do it island style!
2011 bist du Neunter in der FMB-Gesamtwertung geworden. Bist du zufrieden mit dem Resultat? Was sind deine Pläne für die kommende FMB-Tour?
Ich war schon zufrieden mit dem neunten Platz, nachdem ich mir Anfang der Saison drei Rückenwirbel gebrochen hatte. Ich lasse es jetzt etwas ruhiger angehen. Dazu muss ich ehrlich sagen, dass es nach so vielen schweren Verletzungen weitaus schwieriger ist, die ganze Zeit krasse Tricks rauszuhauen.
Bist du zufrieden, dass die Rampage dieses Jahr wieder stattfindet?
Aber klar, ich bin total aufgeregt! Allerdings bin ich mir noch unsicher, was meine diesjährige Taktik geht. Normalerweise baue ich eine komplette Line von oben bis unten, allerdings ist man nach vier Tagen buddeln völlig fertig und hat außerdem nur sehr wenig Zeit, die Line auch ordentlich zu trainieren. Meistens machte sich das leider punktemäßig nicht bezahlt.
Darren Berrecloth bei der Rampage 2010:
Wie trainierst du im Winter? Wie man es in Seasons gesehen hat, Lakejumpen im Wetsuit?
Ich habe jetzt einen Teich im Garten, haha! Aber im Moment ist der noch wahnsinnig kalt und halb gefroren. Aber du musst tun, was getan werden muss…
Auch wenn du einer der älteren Fahrer bist, haust du immer noch heftige Tricks raus. Ist das ein großer Druck für dich, jedes Jahr wieder Tricks zu lernen und mit den jungen Wilden mitzuhalten?
Ich bin jetzt seit vier Jahren der älteste Fahrer der Tour und klar ist es schwer, die ganze Zeit neue Tricks zu lernen. Aber das treibt mich an! Ich liebe es, neue Sachen auszuprobieren und das macht mich glücklich. Du kannst meine Freundin fragen wie mies gelaunt ich werde, wenn es an einem Tag nicht vernünftig läuft…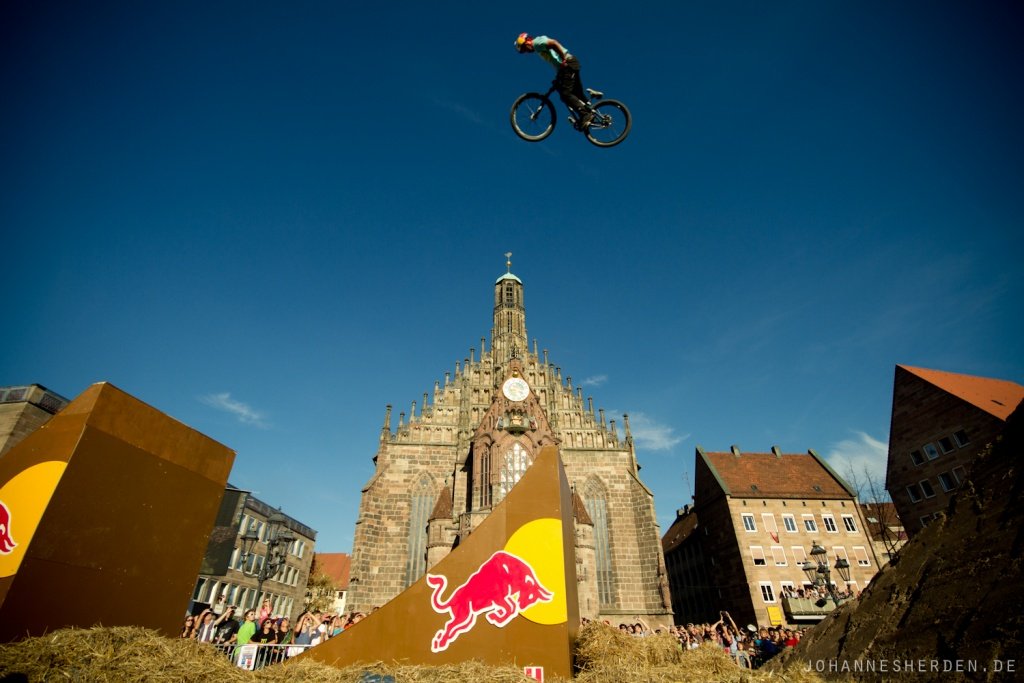 Still goin´ big: Dicker 360er beim Nürnberger District Ride
Vielleicht erinnerst du dich an unsere lustige kleine Autogrammstunde in Nürnberg. Musst du immer noch viele Autogramme schreiben?
Aber hallo! Ich muss ziemlich viele Autogramme schreiben, grad auf Events – das ist einfach ein Teil davon, wenn du Vorbild sein willst. Ich erinnere mich daran, wie ich zu den Profis aufgeschaut habe, als ich noch ein kleiner Junge war. Also versuche ich, so wenig Diva oder Rockstar wie möglich zu sein.
Mit welchen Profis fährst du am liebsten zusammen?
Mit allen, haha!
Beschreibe den perfekten Tag von Darren Berrecloth.
Oh, ok. Also, es geht los mit einer morgendlichen Forellen-Angelsession, dann würd mit dem Schneemobil im Powder rumheizen, dann eine Stunde surfen und die perfekte Tube erwischen. Anschließend würde es auf die Trails gehen, ich würde jeden Trick stehen den ich je gelernt habe, zusätzlich einen neuen Trick lernen und zum Schluss ein BBQ zuhause mit allen Freunden und meiner Freundin Megan veranstalten.
Du kennst mittlerweile viele verschiedene Mountainbike-Locations. Wo fährst du am liebsten?
China war definitiv ein enormes Highlight, aber Utah bleibt mein Favorit.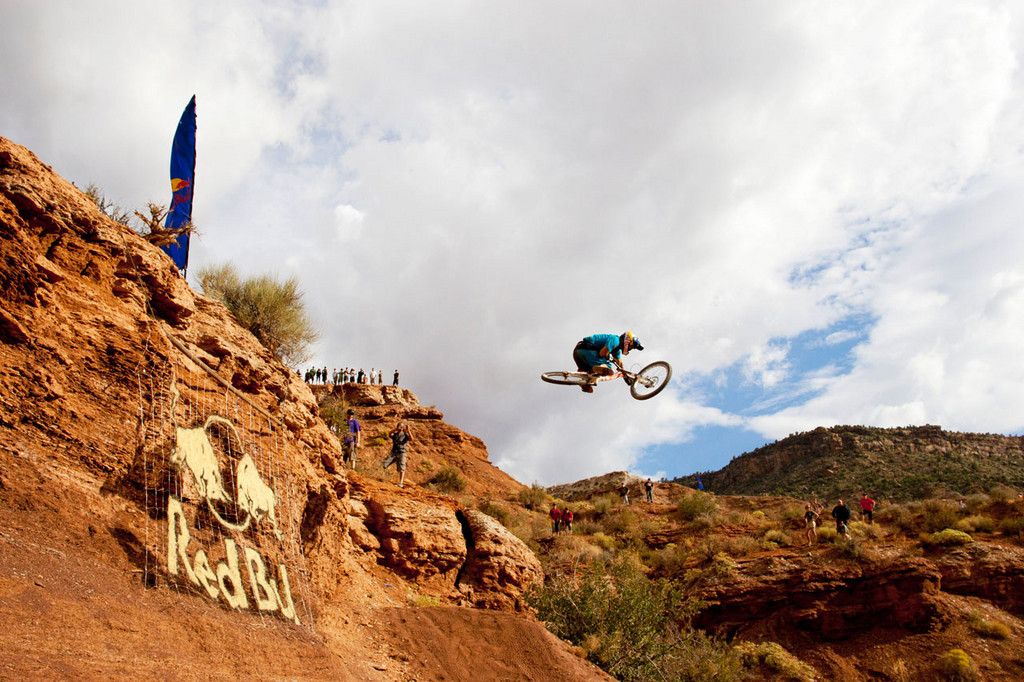 Lieblingslocation Utah: Bearclaw bei der 2010er Rampage
Was sind deine Hobbies neben dem Mountainbiken?
Angeln, Snowmobil fahren, Snowboarden, Surfen, Skifahren, BMX fahren, Motocross fahren, Quad fahren, Wakeboarden, Tauchen und Jagen.
Wenn du nicht grad Contests bestreitest, trainierst oder für Mountainbike-Filme drehst – was macht "The Claw" sonst noch?
Naja, generell mag ich es gerne einfach draußen zu sein. Entweder ich mache eins meiner grad aufgezählten Hobbies oder ich bin im Wald und baue Trails. Ich sitze eigentlich nie einfach rum – wenn das mal passiert, passiert das gezwungenermaßen.
Vor zehn Jahren ist jeder überall mit einem Big Bike runtergedroppt, mittlerweile geht es eher in die Richtung "One Bike for all". Wo steht Freeride in den nächsten zehn Jahren?
Freeride wird immer das bleiben, was es schon immer war: Raus in die Natur und das machen, was du mit deinem Bike anstellen willst. Aber die Technologien erlauben es einem als Biker mittlerweile definitiv, ein Bike für alles zu haben – was ich super finde.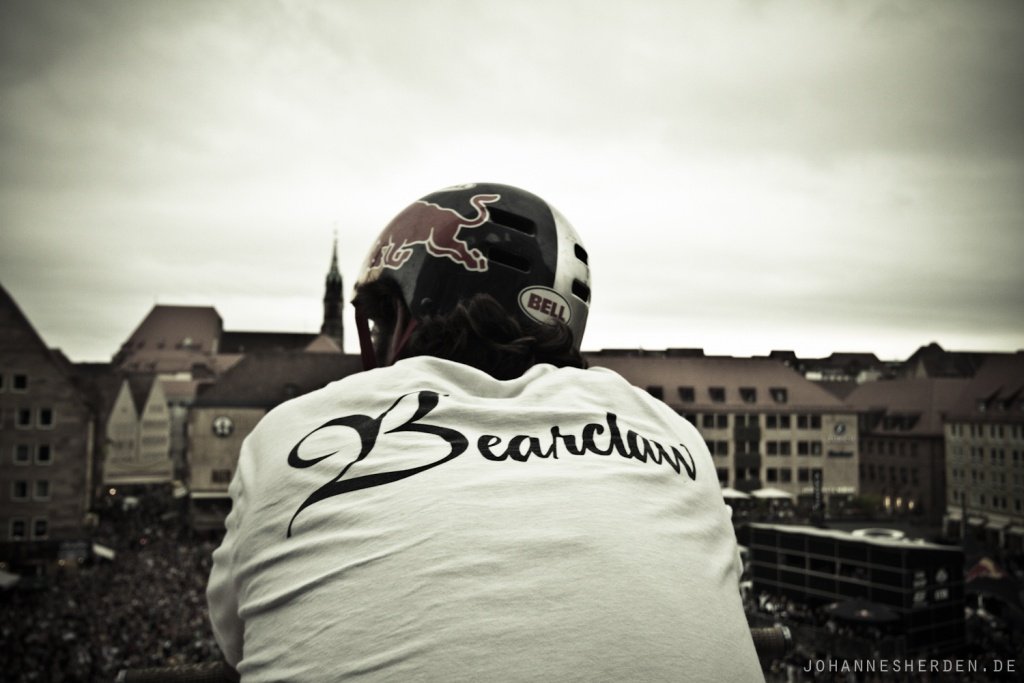 Schnellschüsse:
FMB Gesamtsieger 2012: Cam McCaul!
Lieblingsbike: Specialized P3 und Demo 8.
Deutsches Bier: Kölsch, aus Köln!
Amerikanisches Bier: Natural Light
Lieblingstrick: 360.
Aktuelle Stimmung: Awesome!
Grüße gehen an: Jeden der Mountainbike fährt, weil es ihn glücklich macht!
---
Kurzlink zu diesem Artikel:
Ähnliche Artikel