Dabei seit

6. Januar 2017
Punkte Reaktionen

733
Something little fun for sale in the new year:
Salsa Cycles was founded in 1982 after Ross made some bikes under the name "Red Bush". He was convinced by some friends to make a batch of 5 mountain bikes, and when he also built one for himself to see what all this mountain biking fuzz was all about, he was hooked on the dirt.
All hand built, fillet brazed steel frames with custom made stems and a ridiculously time consuming fork, the bikes were some of the best that you could get back then. Not many builders were around then - there were Cunningham, Ibis, Fat City, Mountain Goat and some others. Very few mountain bikes were made each year.
The Salsa name comes from Ross' love of the hot stuff. Later on the bikes were built in the basement of a Mexican restaurant as well. Serial numbers should starts with "S" for Salsa and then
M
for Moto (mountain),
T
for tandem or
R
for road. So all the MTBs have a serial number starting with
SM
. Serials were sequential, so SM52 is the 52nd Salsa made.
This bike is a lot more modern than the previous ones. It was one of the first after Ross moved from Santa Cruz to Petaluma, and one of the first five or so Moto SL frames. SL stands for
Super Light
, and there is a lot of stuff on this bike that was done for saving weight. The most obvious is the unicrown fork and the rolled down road rims. The hubs are himano Dura Ace, road hubs, and they already had a free hub. Great for saving weight. The rims are Wolber Super Champion, rolled down by Keith Bontrager himself, and you can still see half the Wolber decal on the front rim - the rest of the decal was cut when reducing the size from 28'' to 26''. The stem is also a lighter version of the iconic Salsa Pro Moto stem. Components were originally Suntour XC, which was just released then. The roller cams were originally Suntour, but were changed to WTB at some point. This bike was also brought back to Salsa for a repair job in 1991 or so, and was also repainted in this very dark blue and was given the Jellybean finish. Originally this had a Pooftaflage paint job. The picture of the hand written note is Ross' notes for this bike and shows the details and tubing.
The shoulder pad and the Hite-Rite is some cool touches on this one and also helps dating the bike. In many ways this bike is hard to date when riding it, since it feels a lot newer than it really is. The bike feels light and agile, and it has great stopping power since it's equipped with roller cam brakes. This frameset has the brazed on Hite-Rite tab and is probably one of the earliest bikes ever with this feature - Ross shared shop with Joe Breeze right after he moved to Petaluma and Joe just developed the Hite-Rite around that time.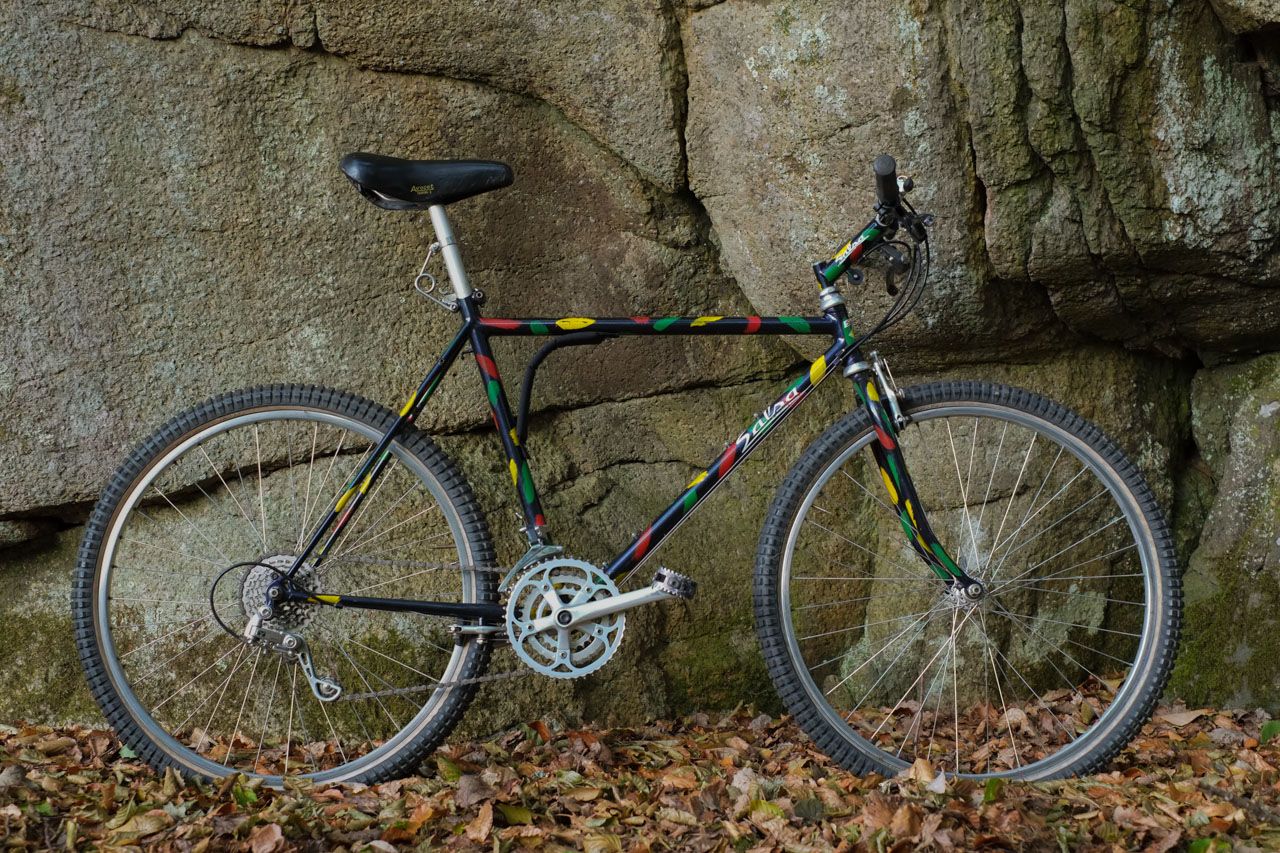 The price includes silver WTB roller cams but they can be removed if the buyer wants the original Suntour set up and a more reasonable price (and the prices on these WTB roller cams is really crazy these days).
Spec is Suntour with Deer Head derailleurs. I'm 182 cm tall and it suits me pretty perfect. Precise measurements and more pictures are available upon request.
Looking for €4300 shipped from Norway.