Hi all,
these frames/framesets are for sale,
SHIPPING COST TO Germany IS INCLUDED IN THE PRICE!!!
(SHIPPING WOULD COST 35 EUR ALONE)
Pictures are here:
https://imgur.com/a/pUAVIE6
List:
CUBE Appear
, circa 1995, 18,5 ", supplied
WITH WORKING Magura HS brakeset
, special factory spec cable stops on top tube! Chromed Tange double butted tubes, 68 mm BB, 1 1/8" headtube, used but normal condition, some surface rust, but not deeply rusted.
65 EUR
American Eagle "Mammoth"
16,5", Tange Infinity tubeset, 2000 gr weight!, nasty, albeit only visually dangerous dent on downtube
55 EUR
Cannondale SE1000
, 21", NO FORKS! Made in USA, original, good condition,new Suntour rear shock.
100 EUR
Scott Windriver LTD
, circa 1995 20,5", nice & light double butted cro-mo frame, 1 1/8 headtube, 68 mm BB, paint is OK, usable as is.
50 EUR
Heavy Tools HT Scout
, 18", cro-mo, 68 mm BB, 1 1/8" headtube, normal condition, paint is OK, usable as is.
50 EUR
KTM Race Force
, 18.5-19", 1560 gr. weight, top of the range, inc. integrated headset, good condition, a coulple of scratches, with seatpost, OEM was XTR M950 groupset.
80 EUR
Merida Raiders
, 18.5, nice condition, light cro-mo frame, 68 mm BB, 1 1/8" headtube, black.
50 EUR
Cycletech NOVA Pro-Superlight
, 17.5-18", Tange Ultimate Superlight tubeset, 2000 gr. weight, chrome effect coating is flaking in places.
80 EUR
Giant Escaper
, circa 1989-90, double butted cro-mo, rear U-brake on chainstay, 22" frame for the taller retrobiker, light frame considering its size at 2.2 kg, 1" headtube, 68 mm BB, no rust, normal condition, a few scratches.
50 EUR
Panasonic MC6500
frameset, Made in Japan, XT headset, Suntour seatpost., new paint, 68 mm BB, 1" headtube.
95 EUR

Muddy Fox Monarch Pro
,
Tange Ultimate
steel, 19", 1993, nice, low miles condition,
90 EUR

TREK 990
1995 18",
True Temper OXIII
, Made in USA, top of the steel MTB range in 1996, V-brake, weight: 2200 gr., new lacquered black paint, with new blue seatpost QR
95 EUR
Italian steel frame, circa 1995. Very nice "metal flaking" effect sparkling silver colour, comes with a
NOS ITA 70 x 107 Shimano UN71 Deore XT bottom bracket
. Top tube: 585 mm c-c Seattube: 480 mm c-c, 510 mm c-t About 19" size. Headtube 140 mm long, 1 1/8 size. Front mech band size/type: 31.8 mm, top pull ,but factory made M6 threaded hole for cable pulley (for bottom pull mechs) is also present. Takes a 29.2 mm seatpost, which will be included too. Frame weight is about 2.540 gr with BB and stainless water bottle boss bolts
95 EUR

Simplon Troxx,
Tange Ultimate Superlight
steel,
taken from new bike!
, 18.5", for V-brakes, close to NOS, some storage marks and a stander mark on left-side chainstay. 1 1/8 headtube, 68 mm BB, 29.6 mm seatpost size. Lovely!
105 EUR

Marin Pine Mountain 1993,
17.5"
, Tange double butted cro-mo steel,
nice condition, some paint loss, good restoration base, 2200 gr. weight, 1 1/8" headtube, 26.4 mm seatpost size, 68 mm BB, some OEM parts and a seatpost are also included.
95 EUR

Schwinn PDG 50,
1993, Made in Japan, 16.5",
Tange Prestige
steel, with light Spinner cro-mo forks, seatpost is also included
60 EUR

Frameset only:
TREK 990
, 1992. 19" Made in USA,
True Temper OXII
double butted steel, Tioga headset & 122/73 mm bottom bracket. with cro-mo forks. Black seatpost is included. New paint on frame and forks, unused since painted.
95 EUR



For any questions to be answered, or more photos needed, please ask. All frames can be used as is, threads are OK, no deformities, cracks, only scratches or some dents (please see description) on steel frames are present. If you buy 2 or more at once, shipping can be discounted!!!
Cheers,
Endre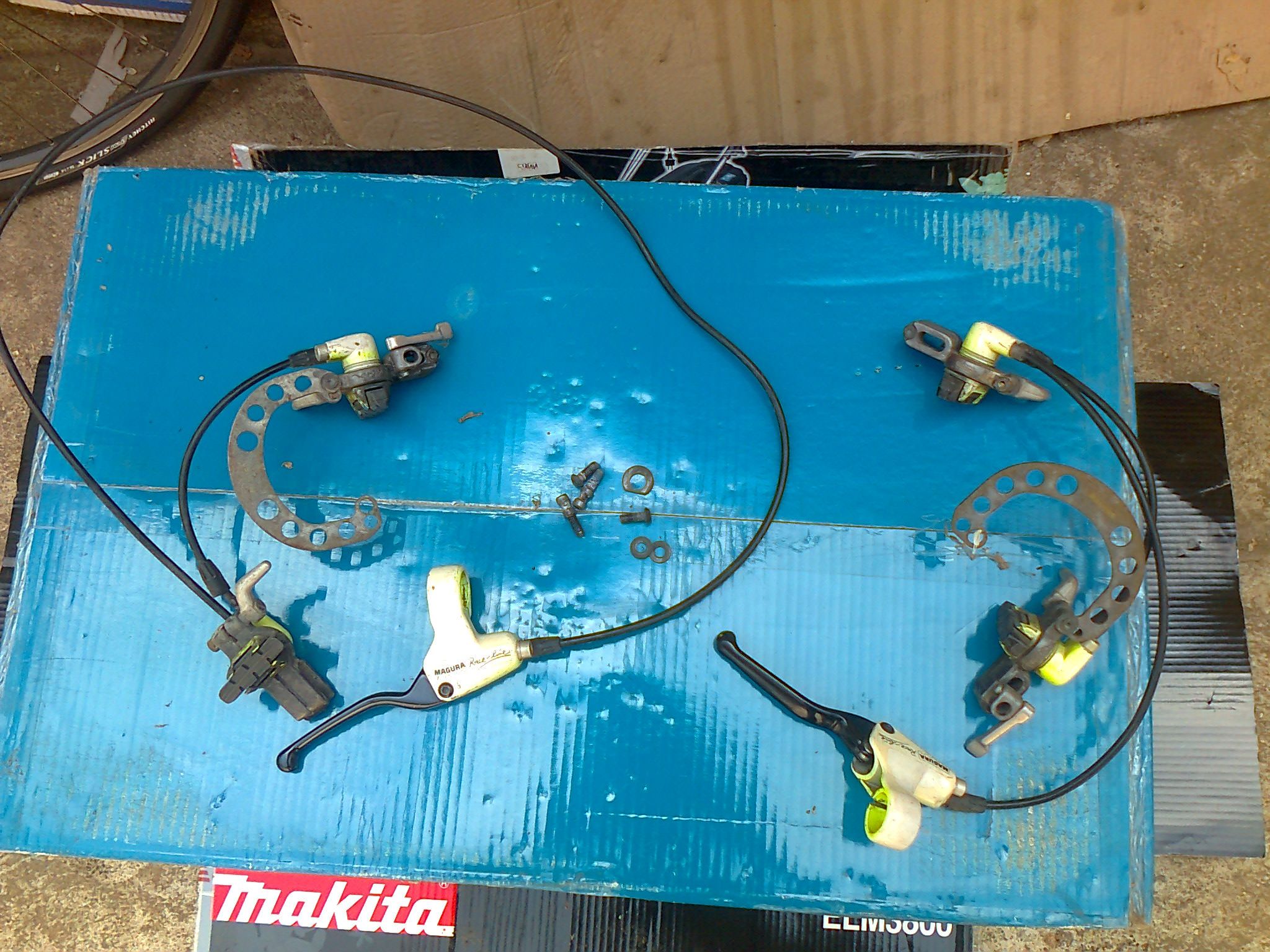 Zuletzt bearbeitet: