Unconventional and novel solutions are found across the bike industry and give you those "Eureka" moments when you discover them. Of course there are always heated discussions in forums about these developments – one such item, a new shock design has provoked much interest and a whole dedicated thread. We're talking about Nitro Shox! We got the full scoop on this shock and how it performs on the trail in our exclusive test session.
After two rainy days the showers have stopped and the sky is clearing up again. I'm at the bottom of the cable car in Chur and am setting up my bike – the only familiar thing today. Soon Kevin Hill and Joe Hunter from Nitro Shox arrive. While Kevin puts his bike together, I fit the new shock to my Nicolai test rig under the watchful gaze of Joe. I swing my leg over the saddle and take a seat – interesting.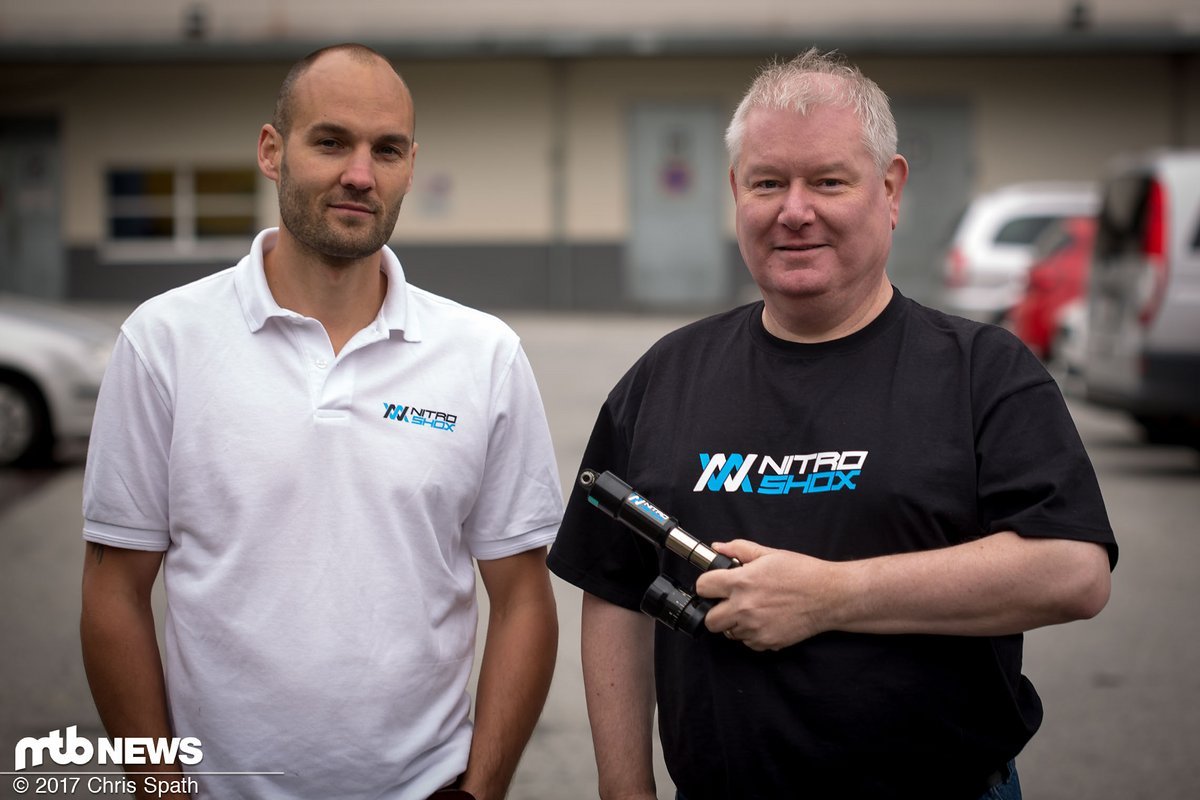 #
Kevin Hill and Joe Hunter from Nitro Shox
What is Nitro Shox?
Nitro Shox showed up without any warning at Sea Otter a few years ago – the two Brits had brought along their prototype shock and it garnered a lot of attention. Since then, there's been a lot of fettling and work done to turn those initial prototypes into production ready models. Shortly after it was decided – we're making a new shock.
Shortly after they decided. A new shock was going to be made.
How did this even get off the ground? Kevin and Joe got to know each other at work, where they are an Engineering manager and Design engineer respectively. Kevin inevitably got talking about his passion – mountain biking. The day after Joe brought in a copy of Dirt – he had manufactured a shock for a colleague's Millyard bike that was featured in the article.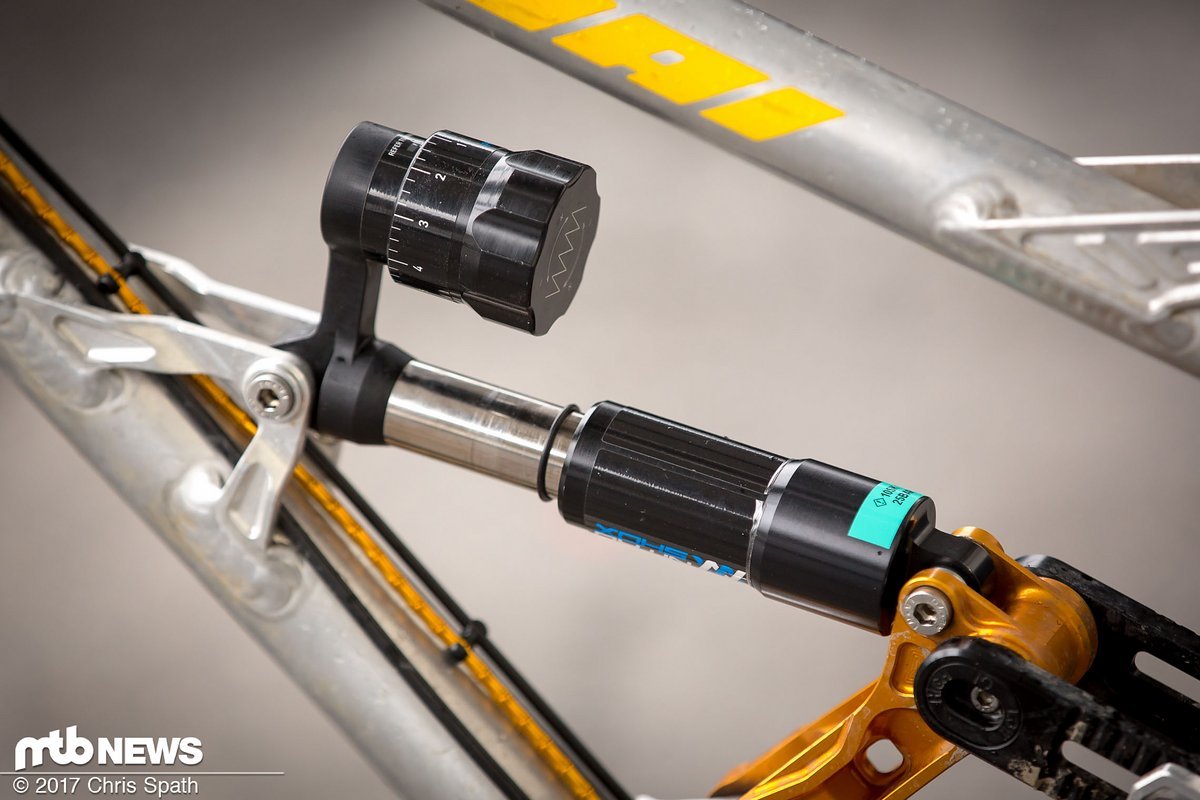 #
It doesn't just look different, the shock works differently as well
The pair have been developing it since then. With his years of experience designing suspension for jets and tanks, Joe is in charge of construction. Kevin manages testing, marketing and publicity.
What's special about the Nitro Shox?
On the surface, this question is easy to answer. Compared with other manufacturers, Nitro Shox are taking a new and unconventional approach to their shock. It's not the defence engineering background that is unusual – Dave Weagle has that too – instead Nitro Shox shock just works in a different way.
The Concept
"All you need to do is set your sag, the shock will work everything else out itself" –
NitroShox
"All you need to do is set your sag, the shock will work everything else out itself". In an age where we have volume spacers, R2C2 dampers and OTTs this comes across as almost too simple. However – and this shouldn't be underestimated – the less adjustments you can make the less likely you are to make mistakes during that setup. On the other hand, the rider is undeniably constrained in getting the setup just so. Finding the ideal compromise is the big challenge that has to be met. According to Nitro Shox this adjustability isn't absolutely essential with their design. Nonetheless the duo is aware that "people will always want something to fiddle with". Hence four models ranging between 250 and 600 GBP. A prescient statement that was playing out in reality as I looked around me at the people in the lift queue.

As well as the base model without external adjustment, there will be the model tested by us with adjustable preload, a version with adjustable preload and spring rate, as well as a shock with spring rate, preload and damping adjustments, coming to market.
| Modell | Preload | Springrate | Damping |
| --- | --- | --- | --- |
| 1 | - | - | - |
| 2 (tested) | x | - | - |
| 3 | x | x | - |
| 4 | x | x | x |
On our model, the shocks are factory filled with three different pressures to cater for a range of rider weights. These are set to give some overlap between the weight bands to make finding the right shock possible for everyone. This adaptability should cater to a wide range of tastes. Beginner or expert, everyone should be able to find the setup, whether plush or firm, that suits them.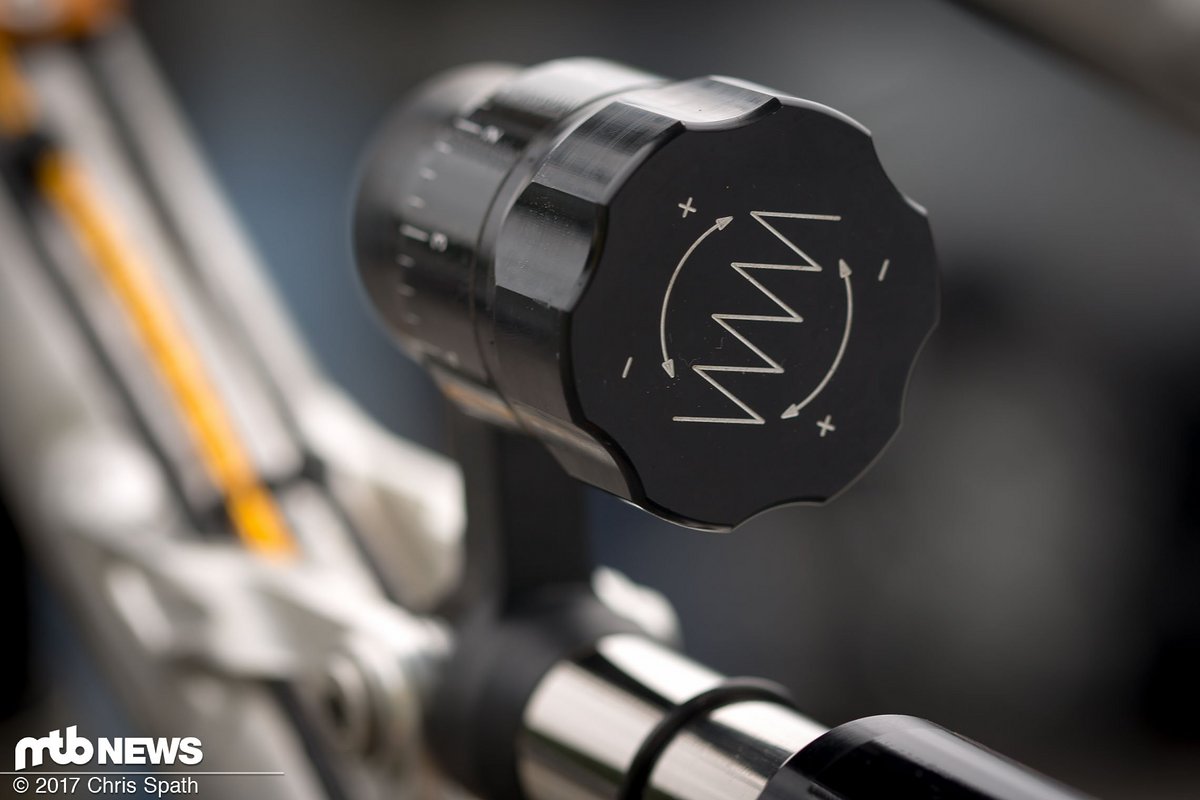 #
There's only one adjustment to be found on this shock
Claims abound that during use the shock offers many advantages. Compared with other shocks, impacts should be absorbed with much more control giving a greater sense of security. Especially hard landings should be absorbed without any problems – no matter how hard it gets. At the same time, the progressive compression curve means it's possible to run a low spring rate without worrying about bottoming out. The aim is to make things less tiring for the rider, meaning more energy for long days, descents and rides.
"It's a very simple system" – We couldn't squeeze any more detailed information about the chambers and damping internals of the shock.
The Technology
During our first conversation Kevin and Joe told me several details about the shock, without elucidating on the specifics. In principle it functions similarly to an Oleo-strut as found in aeroplanes and weapons. These usually use nitrogen instead of air for the spring. Nitrogen is also used in the Nitro Shox shock, giving it its name. "It's a very simple system" – We couldn't squeeze any more detailed information about the chambers and damping internals of the shock. They did reveal a few details though. The system is speed dependent, has a self-regulating lockout and is very progressive. My weight necessitates a shock filled to 25bar. Talking to Kevin, he did tell me that the rebound damping is controlled by a simple bleed port. Whilst mounting the shock on my bike I was also aware of the comparably low weight of the component.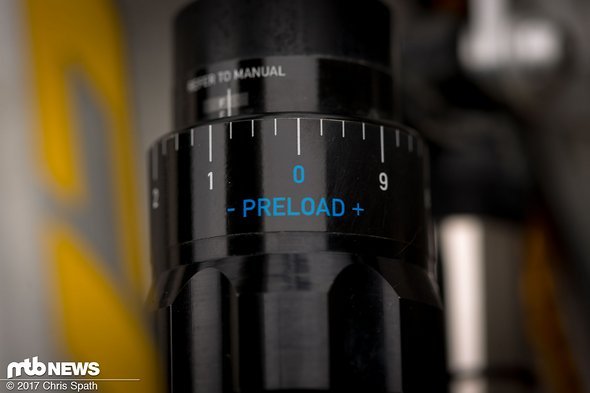 #
The preload is used to set the right amount of sag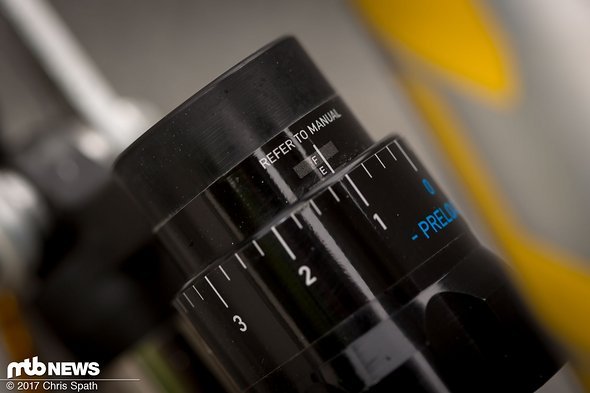 #
The markings let you figure out the setup quickly – no shock pump necessary
The design has evolved on its way to production, in its current iteration the shock has a longer and smaller diameter reservoir. This helps compatibility with a wider range of frames, and as a side-effect means it looks more elegant too.
Nitro Shox – On the Trail
Despite all the explanations and information, I received from the duo, I still couldn't get my head around one thing, the shock only compresses with rider weight on it. Sounds strange and it doesn't do any favours for the legendary car-park test à la Jason Marsh either. You won't score many points here – but then that's not what this shock is designed for.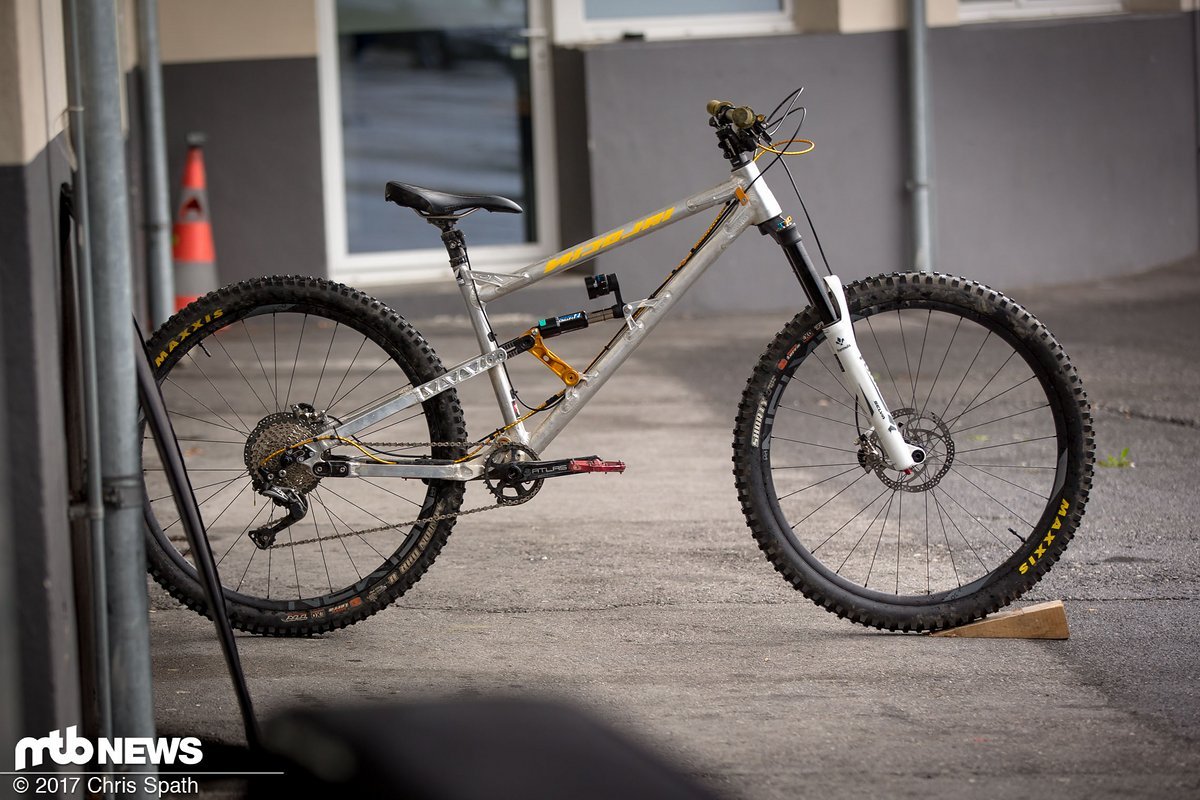 #
Before: Lots of questions: unknown trails, unknown shock but a bike that I know and can rely on
Having fruitlessly tried to compress the shock by hand, I got on the bike to set up the sag. The shock felt stiff. When I got off the bike the sag indicator was still close to the top of the piston. Despite my preference for stiff suspension, even this would be on the hard side for my usual setup.
To my surprise, Joe's response to the initial sag setting was "Looking a little soft"
To my surprise, Joe's response to the initial sag setting was "Looking a little soft". He adjusted the preload and made me test it a second time – "Looking good". The setup hadn't taken more than a minute. Having done my cursory testing in the car park I have to admit I was feeling sceptical. The shock didn't feel bad, but – and there's no other word for it – it just felt different.
Uphill
"Try to break the shock, but not him" came Joe's encouragement as Kevin and I set off on our ride. The ride uphill was bob-free; whether standing or sitting the shock remained firm throughout. In addition, the low sag means the bike sits a lot higher in its travel, conferring a more comfortable riding position for climbing. Effectively tipping the bike forwards slightly gives more ground clearance and a better body position for easier ascending. And all this without having to fiddle with lockout levers or remotes. This should be especially useful on long forest tracks and tarmac sections. Unfortunately, there wasn't the chance to test the shock on a rougher trail on the uphill. I tend to like a supple shock here to maintain traction on uneven terrain – the question here whether the shock would be able to do this. At this point we can't really answer that.
Downhill
On the unknown trails of the bike park we decided to warm up on one of the blue runs. This started out with corner after flowing corner before things got a bit rougher. One of the most important things for me with suspension setup is having the front and rear balanced. With all the shocks I've tested so far, the Formula Selva fork I'm currently running always got along quite well. With the Nitro Shox shock I was had to start from scratch with the fork setup.
With the Nitro Shox shock I was forced to start from scratch with the fork setup.
Whilst I had found a good setup with the fork over the last few months, it just couldn't quite keep up with the rear. With the shock sitting quite high in its travel, weight was put onto the front meaning the fork had a tendency to dive. I increased the pressure in the front and got back some of the balance that I like. The feel of the shock really suited me in the corners where I like being able pump through them, gaining every little last bit of speed without the shock sucking up all my energy. I was enthused and wondered whether the trade-off would be being shaken around on the rough stuff.
We came out onto rough terrain where the shock started to show a side that I couldn't have anticipated from the stiff feel previously. It reacted actively with good small bump sensitivity whilst also absorbing the big hits. I felt very secure on this difficult terrain and never lacked traction. Even though it's not adjustable, the rebound damping felt just right. The rest of the day involved me trying to dispel my almost too positive first impression. Unsuccessfully. The Nitro Shox was overwhelmingly convincing in its capabilities. I was also impressed by the strong progression of the shock meant that I didn't manage to bottom out at all. It might even be worth considering having a shock that runs at slightly softer pressures. It has to be repeated that this shock feels different from most other manufacturers'.
Landings don't feel bottomless, instead it's like dropping into firm and malleable putty, firm but forgiving. And after landing, the rear wheel just seems to suck itself into the ground.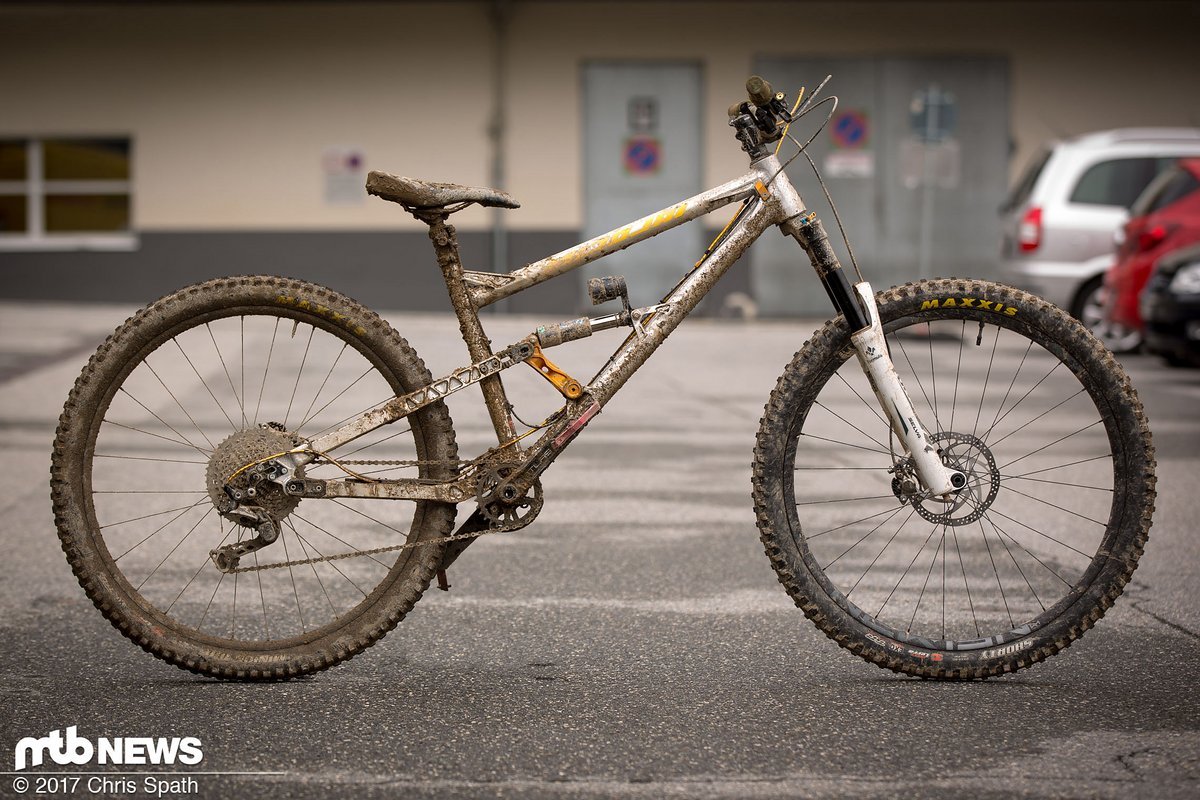 #
After: Even more questions – but a very good first impression
Opinion @ MTB-News.de
Without a direct comparison of back-to- back tests from multiple riders we can only offer you our first impressions – but these are very good. However, Kevin Hill and Joe Hunter understated the uniqueness of this shock – Nitro Shox feels different, in a way we're not used to compared with traditional shocks, both in the setup and during use. We especially liked the combination of high sensitivity on impacts with the stiffness in the corners. Of course we will be staying in touch with Nitro Shox to thoroughly test the production shock as soon as possible.
Would you take a shock without adjustment into consideration?
More Information
Facebook-Page: https://de-de.facebook.com/nitroshox
Text & Edit: Christoph Spath, Jens Staudt, Benedict Pfender | MTB-News.de 2017
Images: Christoph Spath